The Board Game Solution to Team Development
In health and social care effective teams can reduce mortality, and improve staff morale and staff retention.
But first, management and staff must understand what a 'real' team looks like:
Clear purpose and objectives
Members that work closely together
Meets regularly to review effectiveness
As health & social care integration brings different services together, new multi-disciplinary teams will evolve and must learn to work together effectively. Patient safety, staff morale and cost efficiency rely on teams working well together, but understanding the practicalities of good teamwork can be a challenge.
'A 10% increase in real team membership is associated with a drop in mortality of around 6%.' 1 See more
The Teams That Care Game makes learning about teams simple, non-threatening and engaging. The game encourages structured discussions enabling teams to explore what makes high performing teams tick, and the practical steps they can take to work together more effectively.

Teams That Care helps existing teams improve their processes and culture, and new teams will find it a useful and enjoyable way to explore collaborative working to provide effective person-centred care.

The game is suitable for all health & social care staff in any setting. It provides a platform for open discussions in relation to players' own working teams, helping them move from simply being a functioning team towards becoming a 'real' high-performing, successful team.
Face-to-face and online versions available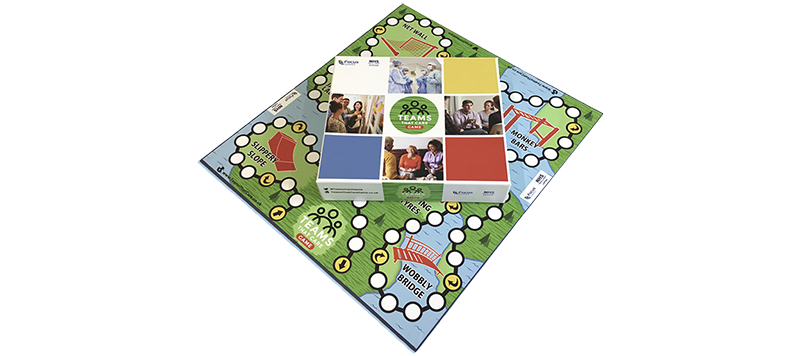 Board game for face-to-face learning.
Traditional tabletop game for groups working face-to-face. Encourages collaborative team discussions.
Generates fun and enthusiasm with a serious purpose and clear outcomes.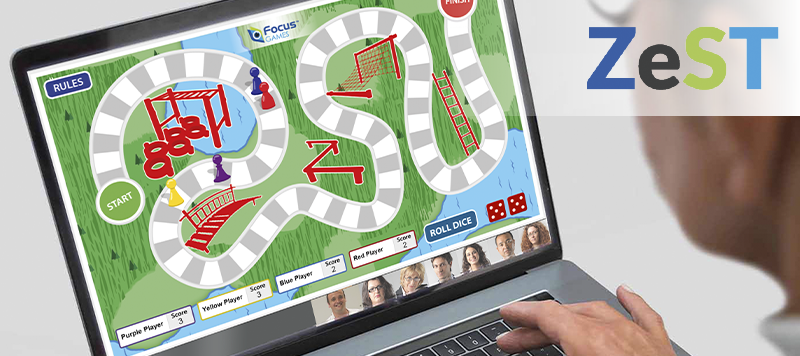 Online for socially distanced learning.
Digital board game replicates the intensity of face-to-face on Zoom, Skype & Teams.
Can be used for remote learning or socially distanced face-to-face sessions. Just share your screen with the group, wherever they are.
What's in the box?
A BETTER WAY TO LEARN
Games make face-to-face training more engaging and effective.
Games encourage people to talk and learn from each other.
Games can be used anywhere, by anyone with no external support.
Games = a workshop in a box.
Developed with Allied Health Professionals

The Teams That Care Game was developed in collaboration with a group of Allied Health Professionals from NHS Lothian. They took part in NHS Lothian's "Delivering Leadership Excellence for AHPs" programme, where they identified a need for an engaging and flexible toolkit which would help new and existing teams work better together.

Their idea progressed to revolve around a central board game activity, with supporting resources to improve team effectiveness. Following funding from the Scottish Government, Focus Games & NHS Lothian created the Teams That Care Game, designed to help not only AHPs but all health & social care staff, to improve team effectiveness, across a variety of disciplines, grades and health & social care settings.
What people say about Teams That Care
Gill Alexander
Dietitian,NHS lothian
"Teams that Care is a great resource for any group working together in the health and social care sector. With the working day being so pressurised, the game can be used for a quick half hour conversation on 1 topic or as part of an away day to facilitate wider discussion.""
Alison Meiklejohn
Occupational Therapy Manager & AHP Mental
Health Strategic Lead,NHS Lothian.
"Great team building exercise, non-threatening and a fun and flexible way to learn… While there were right answers, the game is set up to ensure all views and opinions are valued and as an outcome, a shared action plan is agreed. Highly recommend giving it a go."
Ready to buy Teams That Care?
Or perhaps you'd like to get in touch?